Little Grey Trainers (with rubber sole)
£12.99
Gorgeous new little soft leather trainer style baby & toddler shoes. Kind to growing feet these shoes are made in the same way as the soft soles leather shoes but with an extra rubber sole so that outdoor play is easier. The non-slip rubber sole is also perfect for tiles and wooden floors. Light and comfortable toddlers love these little shoos.
View product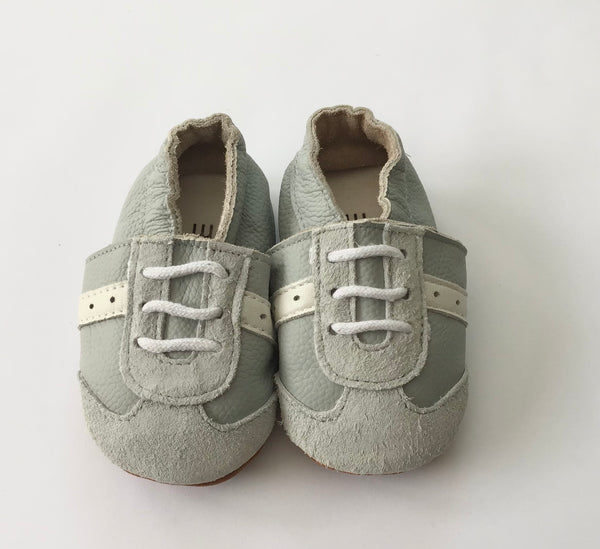 About Little Shoos
Welcome to Little Shoos, we sell high quality soft leather shoes for babies, from newborn to 2 years old.
Our Little Shoos, are made with love, using European safety tested leather and are designed not to fall off your little one's feet!
The shoes have covered elastic inside the ankle area to ensure the shoes stay comfortably on, no matter how much your child kicks their little feet.
Our shoes are perfect for growing feet, the soft leather will not restrict soft little bones in your baby's feet and the non-slip soles are perfect for crawlers, cruisers and little walkers, especially good for wooden floors and tiles.
Little Shoos ship orders anywhere in the world as well as attending local craft fairs, baby fairs and family events in our home town, helping us stay in touch with our customer base.
A mother of 3 children I set up Little Shoos nine years ago selling locally in Northern Ireland, however as the business grew customers began I ask if they could buy online so here we are!
You can also find out more about Little Shoos and our products on our facebook page - www.facebook.com/LittleShoos
Size Guide - 0-6 months, 12 cms (length of sole), 6-12 months, 13.5cms, 12-18 months, 14.5 cms, 18-24 months, 15.5cms. 
Little Shoos deliver FREE to UK and international delivery costs are £3.50 any questions about delivery or advice on sizes please contact
nicola@littleshoos.co.uk